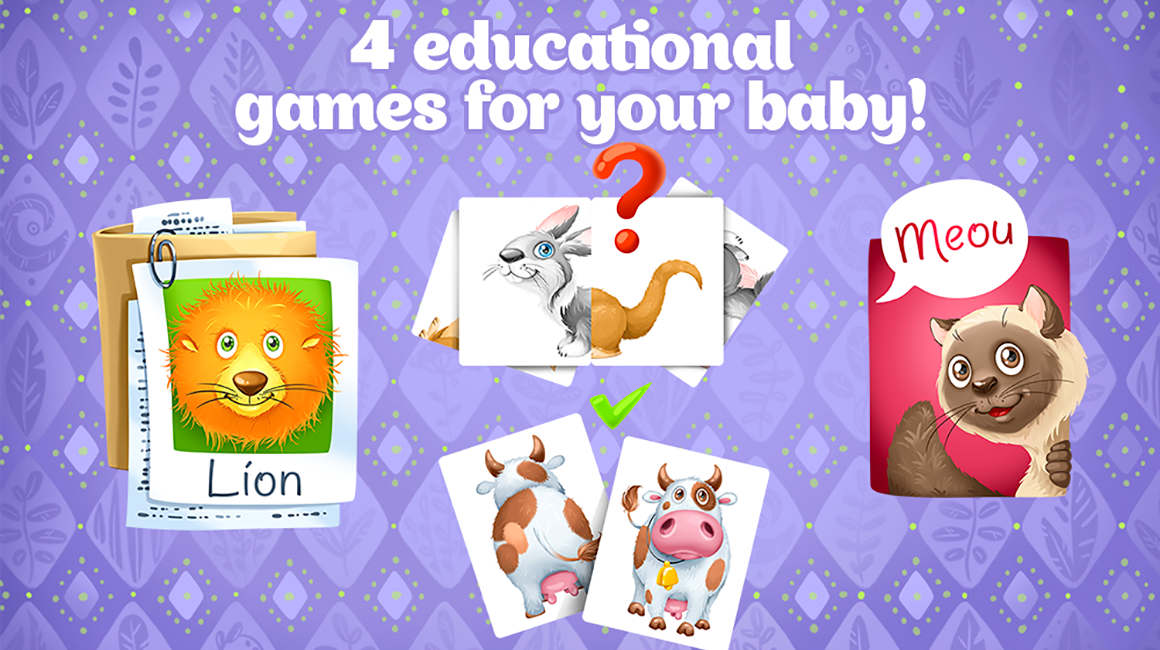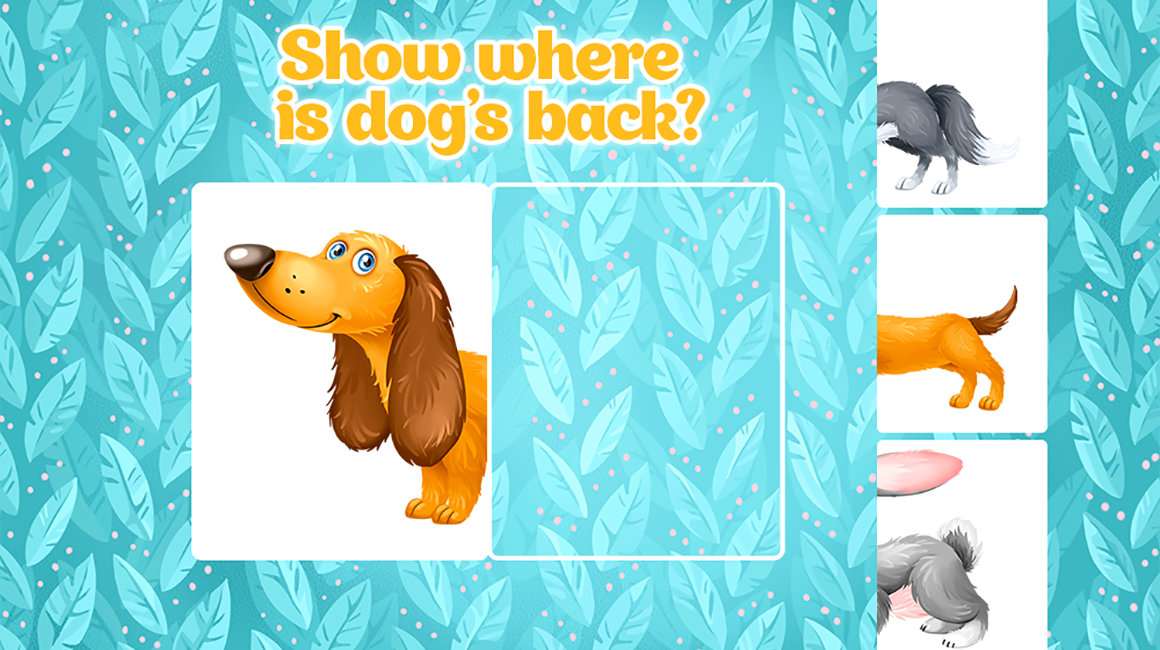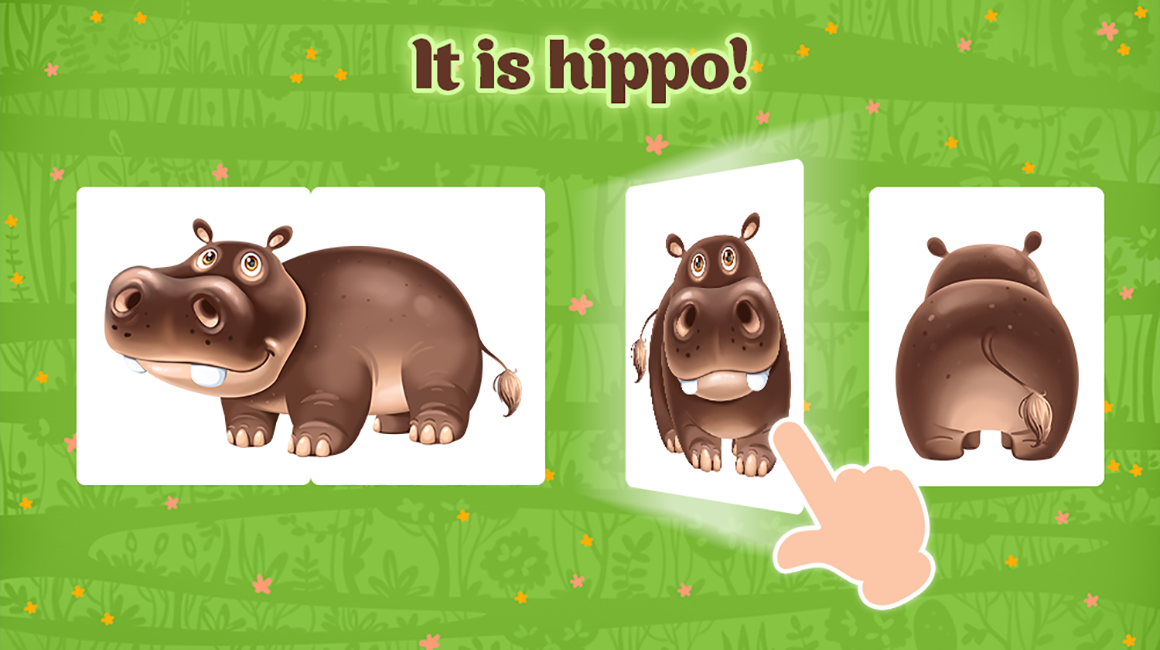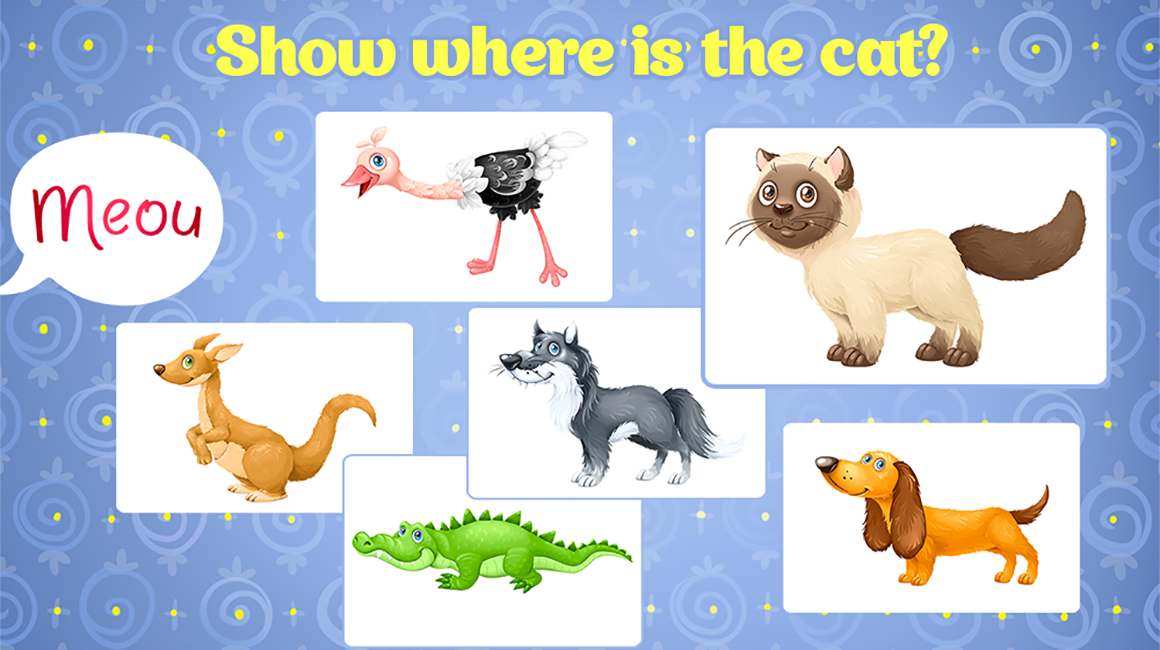 Animal Flashcards for Toddlers: Kids Learn Animals
"Animal Flashcards for Toddlers" is one of our new educational games for kids in which kids learn animals playing four different animal games for kids. Animals for toddlers and kids are represented in the form of flashcards for babies, it makes learning animals for kids more demonstrative and effective. Playing our animals games for kids games your baby will meet wild and domestic animals for kids.
Main features of our learning animal games for kids:
1) Kids learning animals – a hippo, a wolf, a hedgehog, a hare, a kangaroo, a cow, a crocodile, a lion, a fox, a bear, a monkey, a sheep, a dog, an ostrich, a cat. The game presenting 15 animals for kids contains both wild (a wolf, a fox and others) and farm animals for toddler (a cow, a sheep). Moreover, there are also animals for toddlers from different climate zones, for example, a wolf, a fox, a bear, a hare live in the Deciduous, Coniferous and Mixed forests while such first animals for baby like a crocodile, a monkey live in the Rainforest. Also your kid will get to know predatory and herbivorous animals for children.
2) Animals for kids learn in several widespread languages of the world – English, Spanish, Russian and some others. So, your toddler will enrich his or her vocabulary on the topic "animals for kids free" and learn many foreign words. The animal games for toddlers are voiced by native speakers with perfect pronunciation and clear diction.
3) Baby learn animals and at the same time train fine motor skills, develop ingenuity, imagination, perseverance, attentiveness and other skills that will help to study better at school in the future.
4) There are four educational animal games in this learning apps for kids. All these learning games for kindergarteners contain flashcards for kids and are aimed to teach and fix the received knowledge.
5) Like all our educational games for toddlers, you can download animals games for kids free. Such educational apps for toddlers as our free animal games for kids save your family budget and allow to develop and educate your baby with the help of learning games for kids of high quality.
Our animal flash cards can be recommended as:
– learning games for toddlers age 2;
– learning games for toddlers age 3;
– educational games for 4 year olds;
– educational games for 5 year olds.
How to play our educational games for kids kindergarten with animals:
All our educational apps for kids kindergarten have a very simple and intuitive interface, so even the youngest children will not have the slightest difficulty to do deal with these toddler flash card learning games. The game consists of four learning games for kindergarten:
– The first game is a kids flash card learning. The child is supposed to turn over three animal flashcards for kids free in which there are images of animals for kids learning from the front, rear and side view. Clicking the turned cards your baby will hear the name of the given animal in the selected language. Playing in such a way the kid will get to know all the fifteen animals.
– The second game is animals puzzle games for kids. The child sees a card with either the head part or the rear part of a certain animal and three cards with the rear or front part respectively. The baby should choose the right card to accomplish the animal body.
– The third game is also animal puzzles for kids. There are three cards with images of animals of either front or back part to the left and to the right of the screen. The task is put two cards presenting the same animal into the center of the screen.
– Animal puzzles for toddlers of the fourth educational games for 4 to 5 year kid should be played in the following way. There are seven flashcards for kids in kindergarten with animals on the screen. Then follows a voice task to show a certain animal, for example, "Show where is the cow". The baby should perceive by ear the name of the animal, find it among the cards and click.