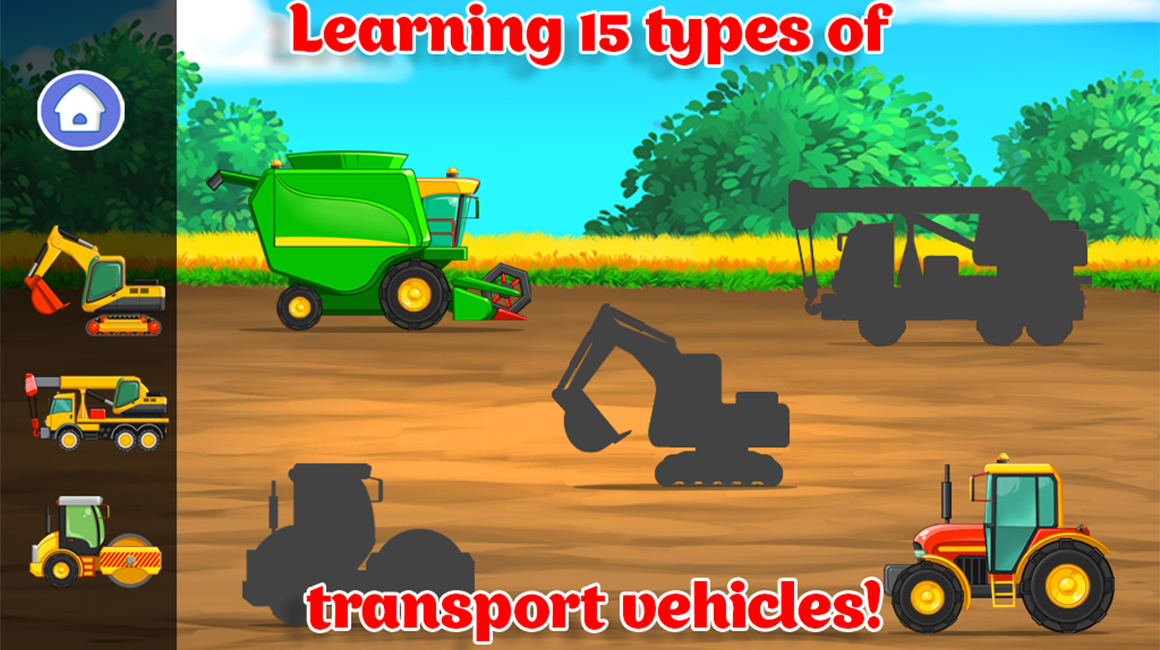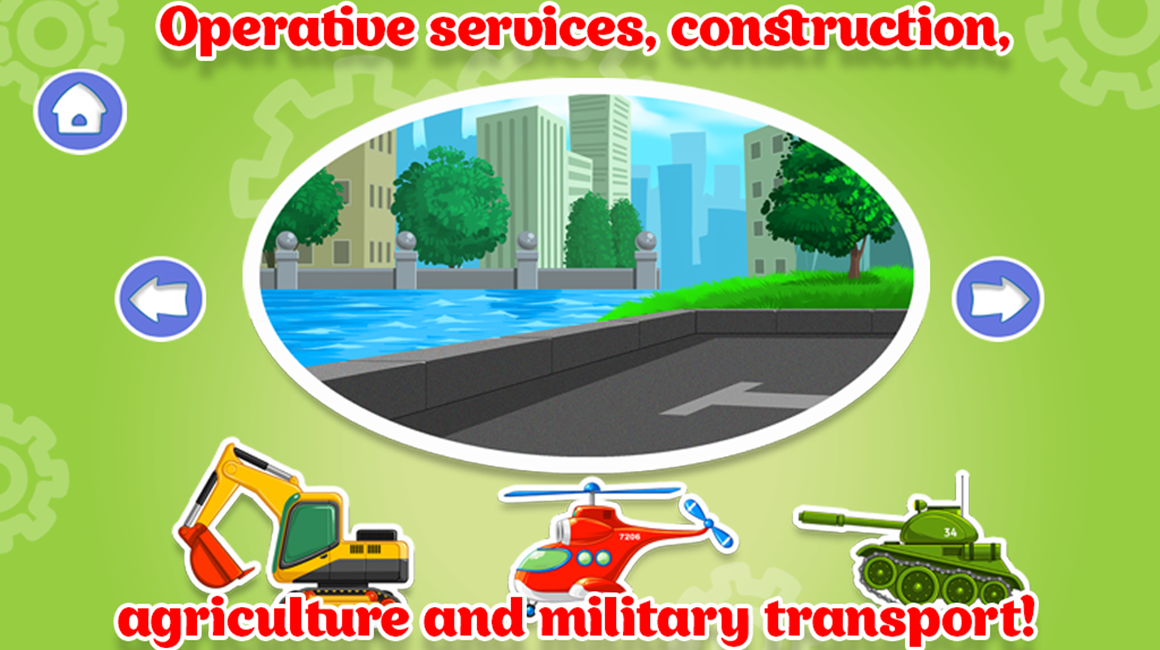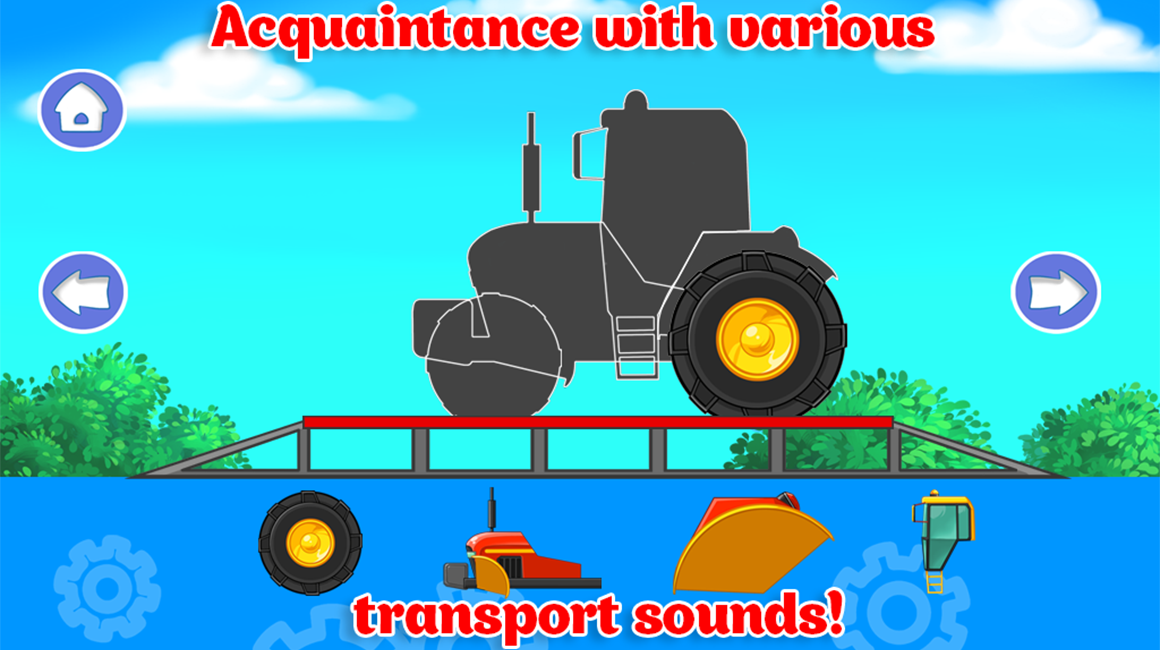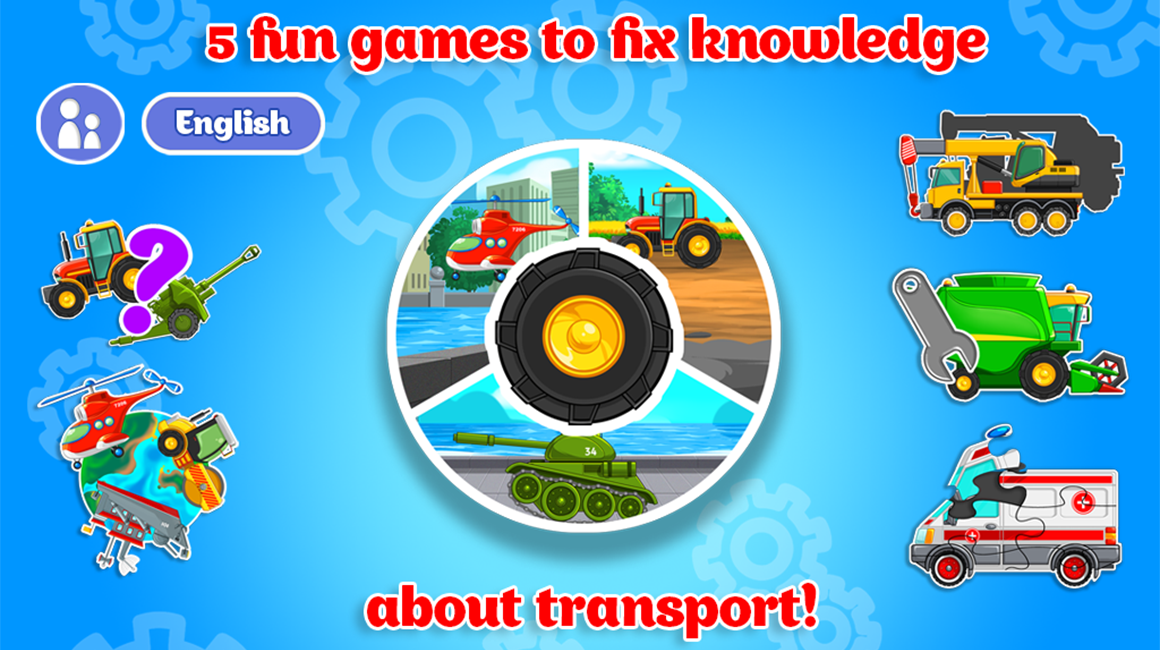 Learn Vehicles for Kids – Transport for Toddlers
Learn vehicles for kids is one of our fun child learning educational apps for kids of early preschool age. With the help of transport games for kids, children will get acquainted with various equipment, machinery and vehicles for toddlers which people invented for different purposes. There are also some educational games for kids kindergarten aimed to fix the received knowledge.
Main advantages of vehicles games for kids:
1) Children will learn transport of the following kinds: rescue vehicles, farming equipment, construction vehicles for kids and military transport.
2) 15 vehicles for learning kids:
– Emergency situations – an ambulance car, a fire engine, a police car, a rescue helicopter, a lifeboat;
– Working machines – a crane, an excavator, a tractor, a roller for laying asphalt, a harvester;
– Military equipment – T-34 tank, armored personnel carrier, bomber, antiaircraft installation, warship.
3) Playing vehicle games for toddlers, kids will hear different sounds of transportation.
4) Learning transport for kids is available in several languages – English, Spanish, Russian and some others. The vehicle games for kids are voiced by native speakers with perfect pronunciation and clear diction.
5) Our transportation games for kids develops perseverance, attentiveness, logical thinking, imagination, curiosity, and trains fine motor skills.
6) You can download all our children educational apps for free, and cars games for kids as well. Educational games for toddlers free will save your family budget and provide learning games for kids of high quality.
7) Like all our educational games for kids nursery, the car game for toddler boy and girl has a very bright and at the same time clear and intuitive interface. So even little kids will deal with the toddler car games easily.
8) Play cars and fix the knowledge with 5 learning games for kindergarteners.
Our cars games for kids can be recommended as:
– learning games for toddlers age 2 (toddler games free for 2 year olds cars);
– learning apps for toddlers ages 2 to 3;
– learning games for toddlers age 3;
– free learning games for kids 3 to 4 years old;
– kids learning games free for a 4 year old;
– learning games for 5 year olds.
How to play our car games for children:
After downloading and starting our toddler cars games free you need choose the language in which you want your baby to learn cars for kids. In the center of the screen children will see a big spinning wheel with animation. To the left and to the right of the wheel there are five kids cars games. In order to start playing kids car games free, the baby should click the wheel. Then, vehicles puzzles for kids will appear in turn, producing transport sounds. The name of the vehicle in the chosen language is heard, and so we learn all the vehicles puzzles for toddlers. After the first acquaintance is over, we start to play car puzzles for kids free.
1. The first game represents the following: the child should select the wrong transport among four suggested vehicles. For example, among the rescue helicopter, the tractor, the combine and the excavator – the helicopter is wrong. If the baby finds it difficult, the game will make prompts.
2. The second game shows a certain background and three puzzle cars for toddlers. Only one vehicles is appropriate for this background. The correct variant should be dragged to the landscape.
3. The third game is a shadow puzzle. The baby is offered five shadows of the learnt transport means and vehicles themselves. Here the kid should guess which vehicle to put into its shadow.
4. The fourth game is vehicle repairing games. There is a broken transport and four spare parts given. The baby should find out what spare part is suitable and drag it to the vehicle in order to repair it.
5. And the last – fifth – game is vehicles puzzle games. Little kids are fond of gathering puzzles, so it's a great game to consolidate the received knowledge about different vehicles.