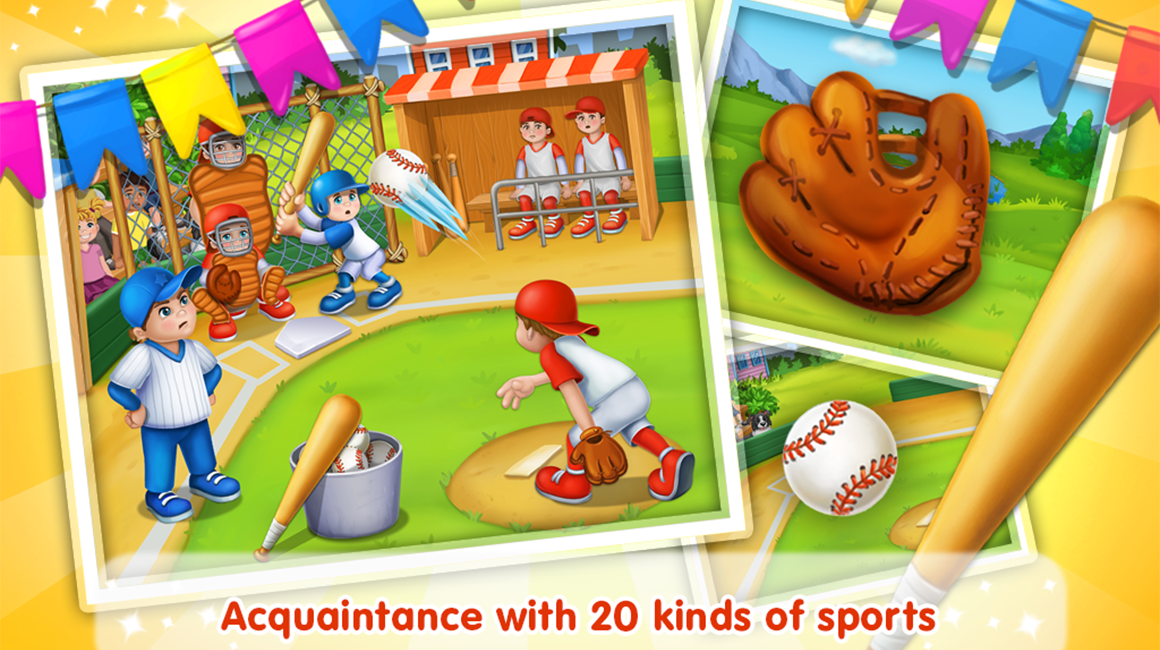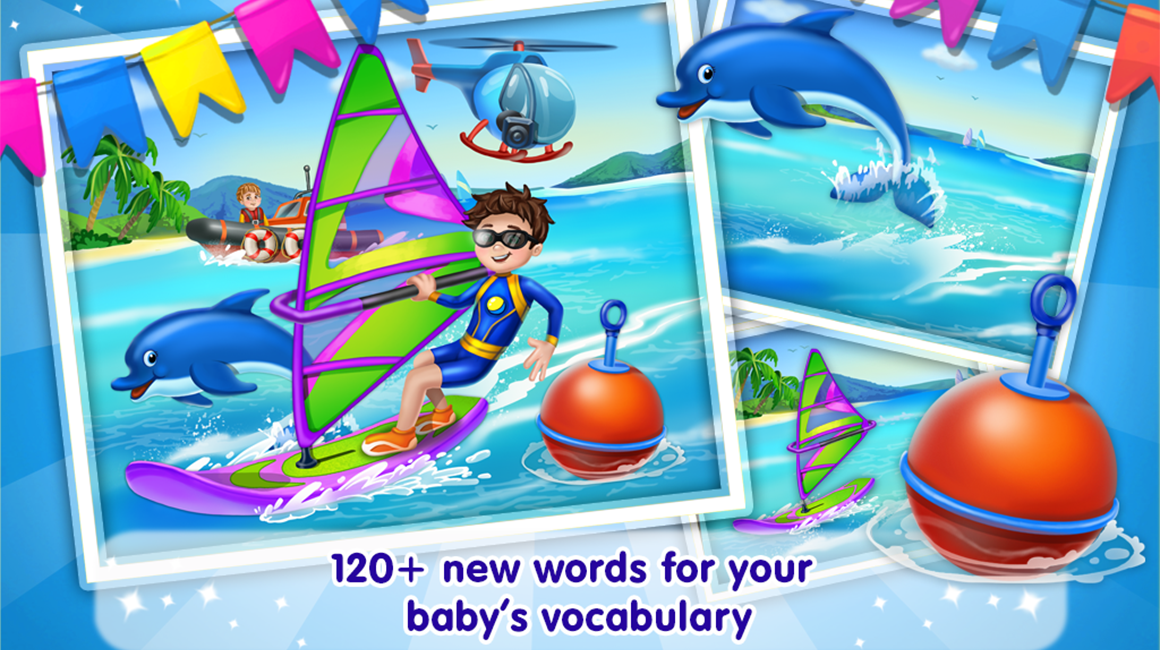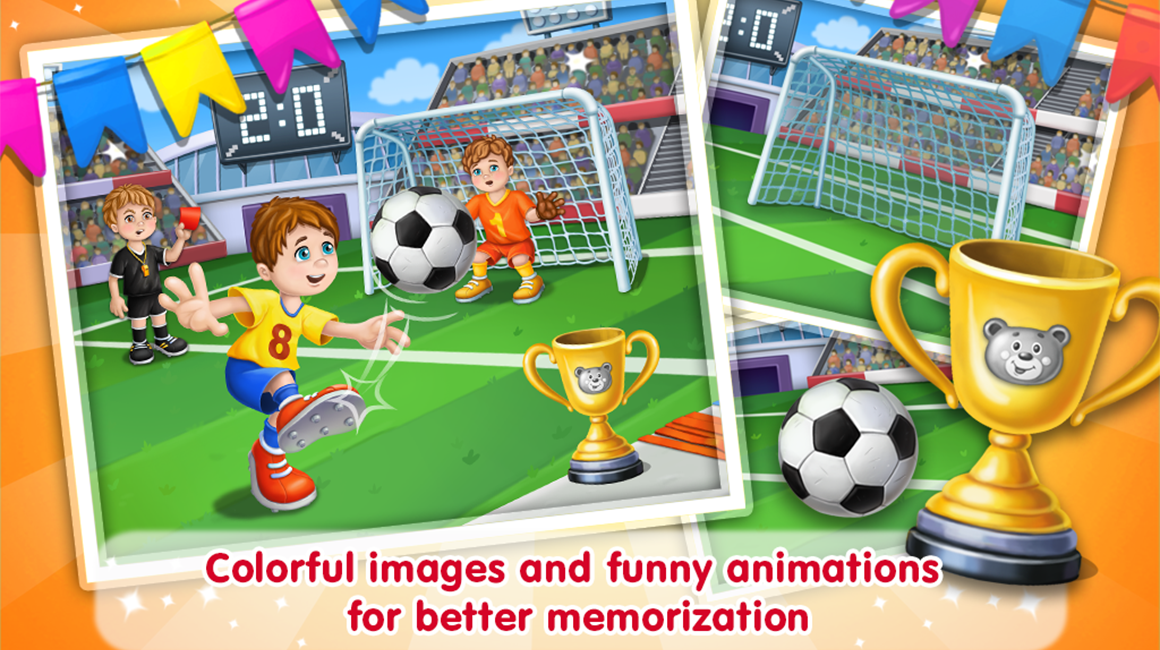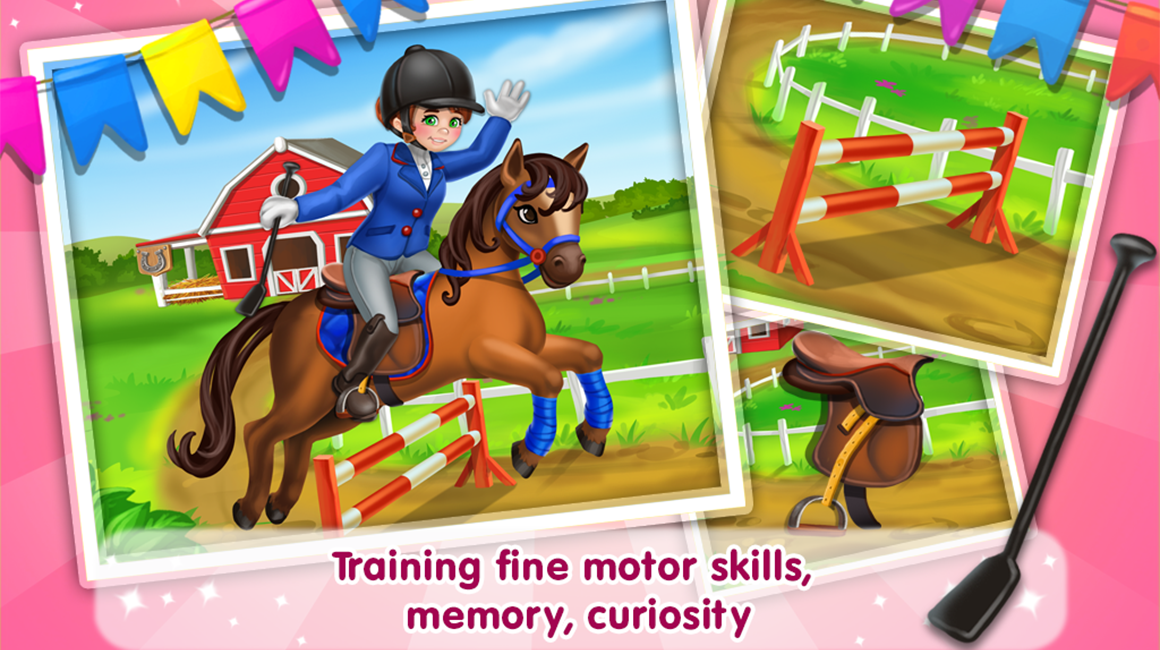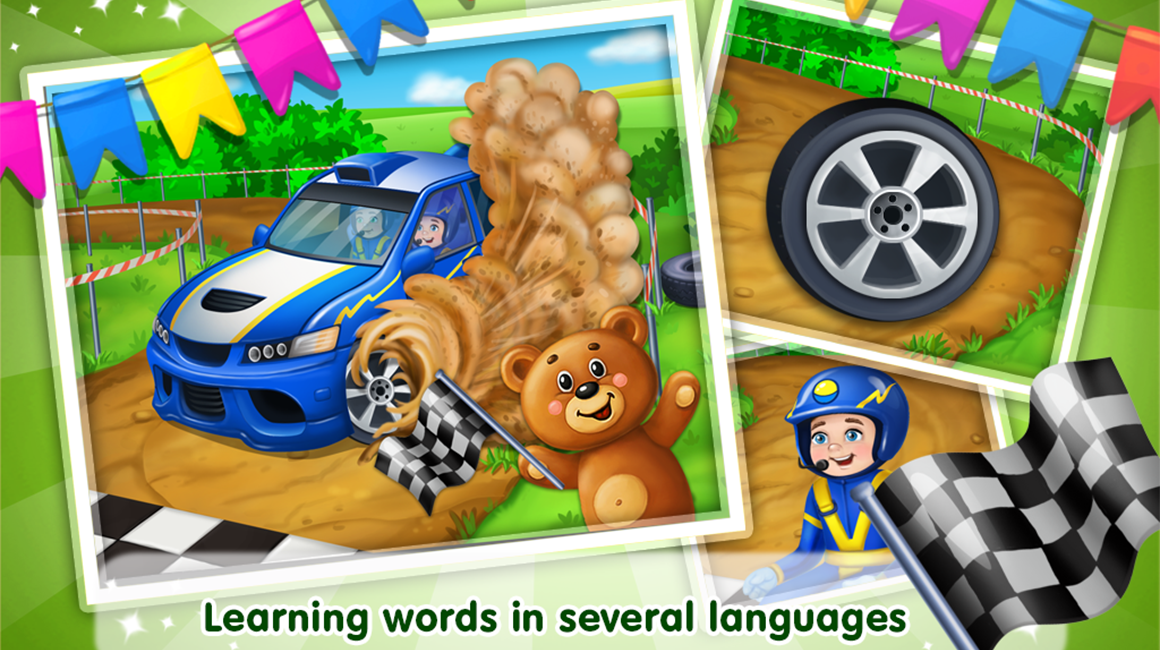 Kids Puzzles about Sports – educational game
"Kids Puzzles about Sports" is a fun educational and entertaining game for preschoolers in which young children learn to put the puzzle together, get acquainted with different kinds of sports and learn a lot of words on the sport topic.
Main features and advantages of our sports puzzles for toddlers:
1) Vocabulary builder for nursery: learning words about many sports games. Our baby puzzles include the following sports and games for kindergarteners: football, basketball, baseball, lawn tennis, hockey, cycling, golf, windsurfing, rallies, equestrian sport, mountain skiing, table tennis, formula-1, water skiing, rhythmic gymnastics, athletics, diving, weightlifting, water sports, chess.
2) Doing each baby puzzle, infants learn a lot of interesting things about sports – the peculiarities, attributes, participants of each sport. For example, to play football, you need a football field, a gate, a scoreboard, a ball, a defender at the gate, an attacker (both in special clothes), a judge, fans and of course a winner's cup! In this way our puzzles games broaden the horizon of little kids.
3) Our kindergarten puzzle is available in English, French, Spanish, Russian, Arabic and other languages. The learning game with kid riddles is voiced by native speakers with perfect pronunciation and clear diction. Knowledge of foreign words will be useful for future study of languages in the kindergarten and at school.
4) Such brain teaser games for babies provide complex brain development of a child and train fine motor skills as well as develop logic and thinking, mindfulness, memory, attention, intelligence and curiosity.
5) Our easy preschool shadow puzzle is suitable for both small boy and girls – for two year old, for 3 year olds, 4 years old, 5 years old. Boys will certainly like sports with cars (rallies, formula-1) while girls will appreciate such sports like rhythmic gymnastics and athletics.
6) Our sport puzzle for kids under 5 was developed in the tight cooperation with children's illustrators, psychologists and teachers. That's why our baby puzzle games for 2 years and older have such a clear and intuitive interface with which even the youngest kids will deal with ease.
7) You can download our toddler puzzles for free. Free educational puzzles save your family budget and provide games for children of high quality.
How to play our puzzles game about sports:
First of all you need download our free puzzles. After downloading and starting the game you will need to choose the desirable language. Then your baby finds himself/herself on the main screen and he or she can choose one of the puzzles that are located in the right part of the screen. There are different puzzles, so the choice is quite difficult – your toddler should choose from water sports, motor sports, winter sports, team sports and others. Let's have a look the first puzzle – a football one. In the left part of the screen there is an empty football field which your baby should fill with necessary elements. In the right part of the screen different objects appear – gates, a footballer, fans, a ball, a referee and others. Your child should drag those elements onto the football field in the shadows indicating the right places. The name of each object is pronounced in the chosen language, and thus we study the words on the sport topic in all languages. It is assumed that a child will repeat words after the speaker as many times as necessary to achieve the correct pronunciation. Moreover, in order your baby remembers the new words better we added merry animations. Once the puzzle is completed, all the added objects become animated, and the full picture "comes to life", and so kids get an idea of ​​what football (and other sports) is. As an appraise there are air balloons crossing the screen when the puzzle is done. Your little winner can burst them, it will add even more fun to the game! Such a pleasant ending to each task stimulates fine motor skills even better.